You will receive the order within the lead time set out in your order confirmation email. Please note, this email may drop into your junk/spam folder. If you have not received this, please check these folders.
The delivery lead time is calculated depending on the product(s) you have purchased and is in working days, excluding bank holidays and weekends.
Please check your order confirmation email to establish when your order will be delivered.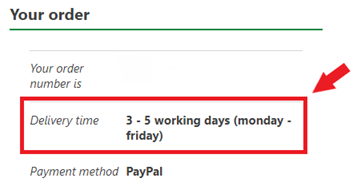 After the order is dispatched, you will receive a tracking email confirming the tracking number and carrier it is being delivered with.
Click here to check how to track your delivery. The tracking information is presented a day or so before the expected delivery date.
If you want to know more about who will deliver your order click here.
In the event your order is delayed, our support team will endeavour to inform you as soon as possible, however, should the order be delayed due to the delivery partner, this will be highlighted in the tracking portal when you track the consignment.