The VELUX insect screen keeps unwanted visitors such as flies and insects out, while allowing you to enjoy fresh air from an open roof window. The insect screen is installed directly onto the wall. It is made of a durable, transparent net that is easy to clean and doesn't block your view or incoming light. When not in use, the net is neatly stowed away in the sleek top casing. We recommend an insect screen for all rooms that you would like to keep well ventilated and insect free.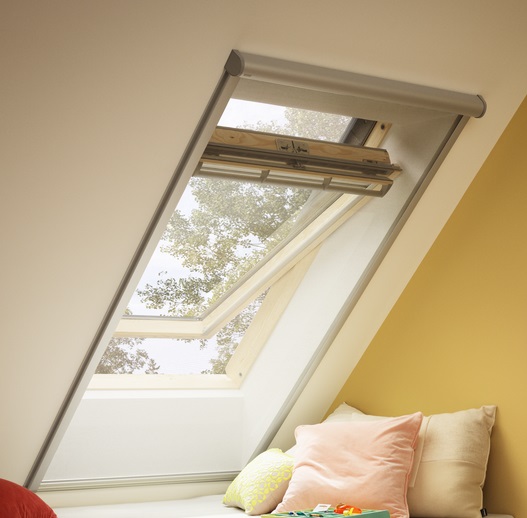 VELUX insect screens cover the whole window area and are made of a durable transparent net fabric that won't obstruct your view. As a result, there are two things to be aware of when choosing a VELUX insect screen.
1. You will need an additional blind if you want to control the amount of daylight coming in to your room. VELUX insect screens can easily be combined with a VELUX blind for daylight regulation.
2. The VELUX insect screen is installed onto the interior wall, not directly onto the window. When ordering an insect screen, measure the width of the window opening on the interior wall to find the correct size insect screen. Insect screens are available in various widths with the following three heights: 1600 mm, 2000 mm and 2400 mm. The height, but not the width, is adjustable. If you have a window with vertical elements, you will need two insect screens and an additional installation kit. Please note: In most cases you will need to cut the insect screen to match the size of your window opening.
For measuring the window opening, please follow the steps in the below video:
If you are unsure which size you need to chose or if you will be able to install the insect screen on the wall, please feel free to contact us.