A VELUX Duo Blackout Roller Blind is a combination of the classic VELUX blackout roller blind and a translucent pleated blind - the pleated blind being attached to the bottom of the blackout blind. The Duo Blackout Blind makes it easy for you to block out as much of the light as you want with the blackout blind; and then use the semi-transparent pleated blind to diffuse the rest of the light that enters the room. The VELUX Duo Blackout roller blind is an ideal solution for any room where you need the flexibility of a blackout combined with the more subdued, softer light of the pleated blind, i.e. in rooms where your needs may vary depending on the hour of the day, e.g. bedrooms, kids, living and TV rooms. It is also very well suited for guest rooms and home offices.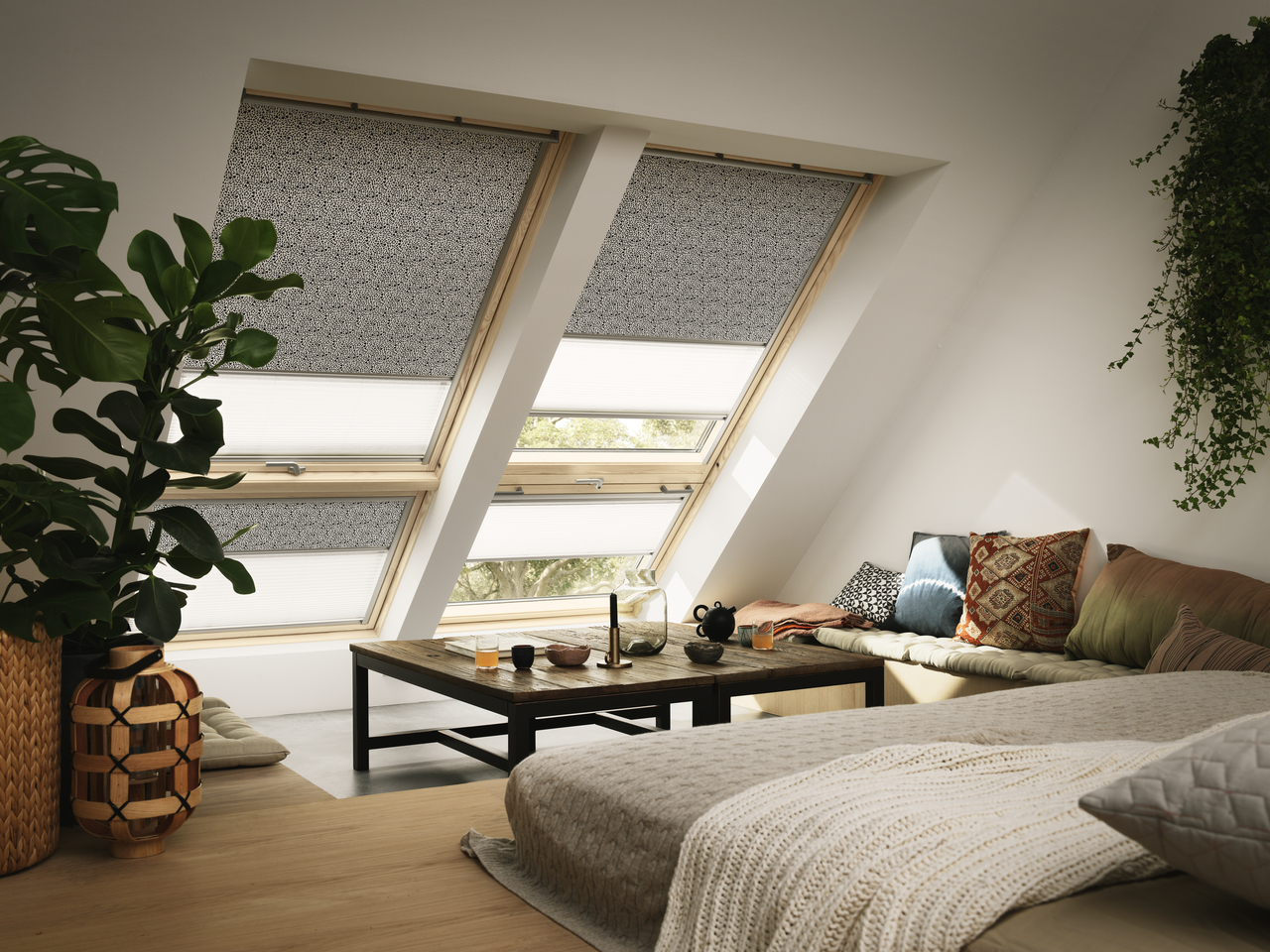 Blackout roller blinds are made of dirt-resistant polyester with a special heat blocking aluminium coating on the back to retain heat in the room in winter and reflect solar heat in summer. The pleated blind, which is attached to the bottom of the blackout blind, allows you to adjust incoming light. The duo blackout blind is made specifically for VELUX roof windows. The blackout material is available in the same 24 colours as the VELUX blackout blind and the pleated blind in white.

The VELUX Duo Blackout roller blind has two control bars that can be adjusted independently even though the two cloths are attached to one another. One control bar is placed between the two cloths, the other at the bottom of the pleated cloth. This makes it easy to control how much of the incoming light to block out, how much to diffuse and how much natural light to let in to the room. To operate the blind simply place your hand on one of the control bars and raise or lower as you please. The blind can be installed in minutes with the VELUX unique Pick&Click!® system.
The VELUX Duo Blackout Roller Blind comes with a three-year guarantee. For more information about installation, you can visit our Help Centre page - Installation section.