VELUX Blackout Energy Blinds combine the elegant look of classic pleated blinds with the insulating power of an aluminium coating. The Blackout Energy Blind provides a light dimming effect and keeps heat in during the winter. It can be positioned anywhere in the window, improves comfort and room temperature, and is a great way to make your home more energy efficient.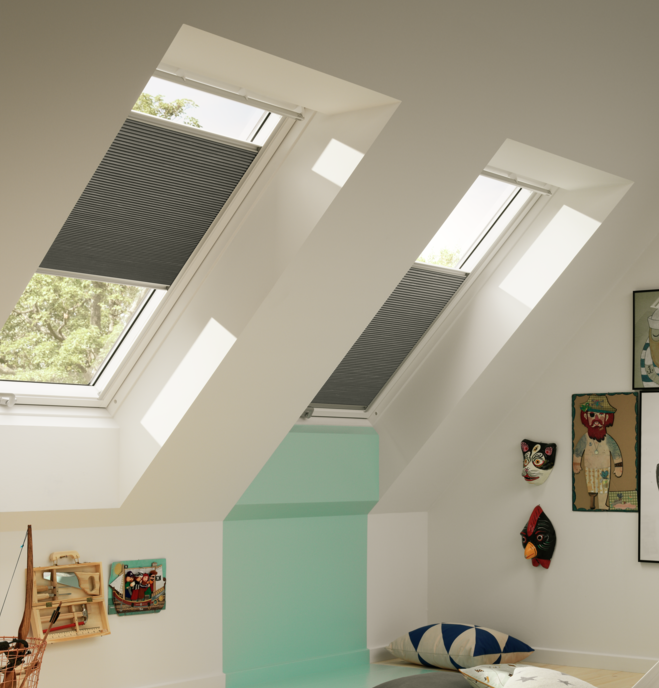 The VELUX Blackout Energy Blind is made of a double-pleated polyester blackout cloth with an interior aluminium honeycomb structure that effectively blocks out incoming light. It also improves the insulation effect of the window, improving the indoor climate. This, combined with the elegant look and flexible positioning, makes it the ideal solution for bedrooms and living rooms. It is available in 12 colours and all of them will provide a full blackout effect if the blind is totally closed.

The manually operated VELUX Blackout Energy Blind is what we call "flying". It is neither attached to the bottom nor the top of the window and you can therefore adjust the blind from the top down as well as from the bottom up. To operate the blind simply place your hand on the control bar at the top or bottom of the blind and raise or lower the blind. The blind can be installed in minutes with the VELUX unique Pick&Click!® system.
Blackout Energy Blinds are very suitable for bedrooms. The blackout energy blind is made specifically for VELUX roof windows and comes with a three-year guarantee.
For more information about installation, you can visit our Help Centre page - Installation section.