Below you will see an example of where to look for your roof window type and size information. This is the information we need from you to ensure you are ordering the blind in the correct size.
Please use the below image to locate your roof window type and size and enter this information into the configuration tool here.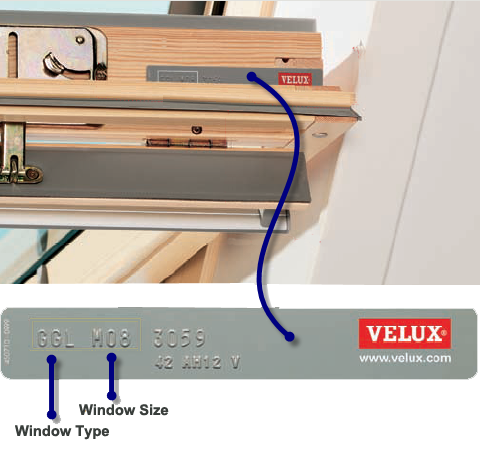 Alternatively, you can view our VELUX size chart for further assistance here.
Here are some examples of window codes on other manufacturers roof windows -

Please note, we do not sell blinds for doors or vertical windows.
Our Itzala branded blinds are compatible with the following roof window manufacturers only, VELUX, Solstro, Dakstra, Dakea, Fakro, RoofLite and Keylite. Any other brand has not been tested and therefore not compatible.
Can't find the code for your roof window?
If for some reason the window type and size data is missing on your roof window, you can also measure the visible glass, width and height and forward this information to us by calling 01592 806 622 or emailing us at customerservices@itzala.com. This can allow our team to search further in our database to provide the window type and size for you.
Find the right size for your Keylite roof window
Itzala blinds also fit Keylite roof windows. However it is not so straightforward to find the correct size blind for a Keylite window because they do not list the size on the type sign like the other manufacturers.
If you want to buy a blind for your Keylite window you therefore need to measure the internal glass size to find out which blind to buy. Just measure the width and height (in millimeters), and then choose the brand Dakea and use the corresponding code to get a perfect fit.
| | | | | |
| --- | --- | --- | --- | --- |
| Keylite code | Nominal size (mm) | Visible pane dimensions (mm) | Corresponding Dakea code | Available Itzala blind type |
| 01 | 550x780 | 371x531 | C2A | blackout/roller/venetian |
| 02 | 550x980 | 371x731 | C4A | blackout/roller/venetian |
| 03 | 660x1180 | 481x931 | F6A | blackout/roller/venetian |
| 03A | 660x780 | 481x531 | F6A | only roller blind |
| 03B | 660x980 | 481x731 | F6A | only roller blind |
| 04 | 780x980 | 601x731 | M4A | blackout/roller/venetian |
| 04A | 780x780 | 601x531 | M4A | only roller blind |
| 04G | 780x1600 | 601x1351 | M4A | only roller blind |
| 05 | 780x1180 | 601x931 | M6A | blackout/roller/venetian |
| 06 | 780x1400 | 601x1151 | M8A | blackout/roller/venetian |
| 08 | 1140x1180 | 961x931 | S6A | blackout/roller/venetian |
| 08A | 1140x780 | 961x531 | S6A | only roller blind |
| 08B | 1140x980 | 961x731 | S6A | only roller blind |
| 08F | 1140x1400 | 961x1151 | S8A | blackout/roller/venetian |
| 09 | 1340x980 | 1161x731 | U4A | blackout/roller/venetian |
| 09A | 1340x780 | 1161x531 | U4A | only roller blind |
| 09C | 1340x1180 | 1161x931 | U4A | only roller blind |
| 10 | 1340x1400 | 1161x1151 | U8A | blackout/roller/venetian |